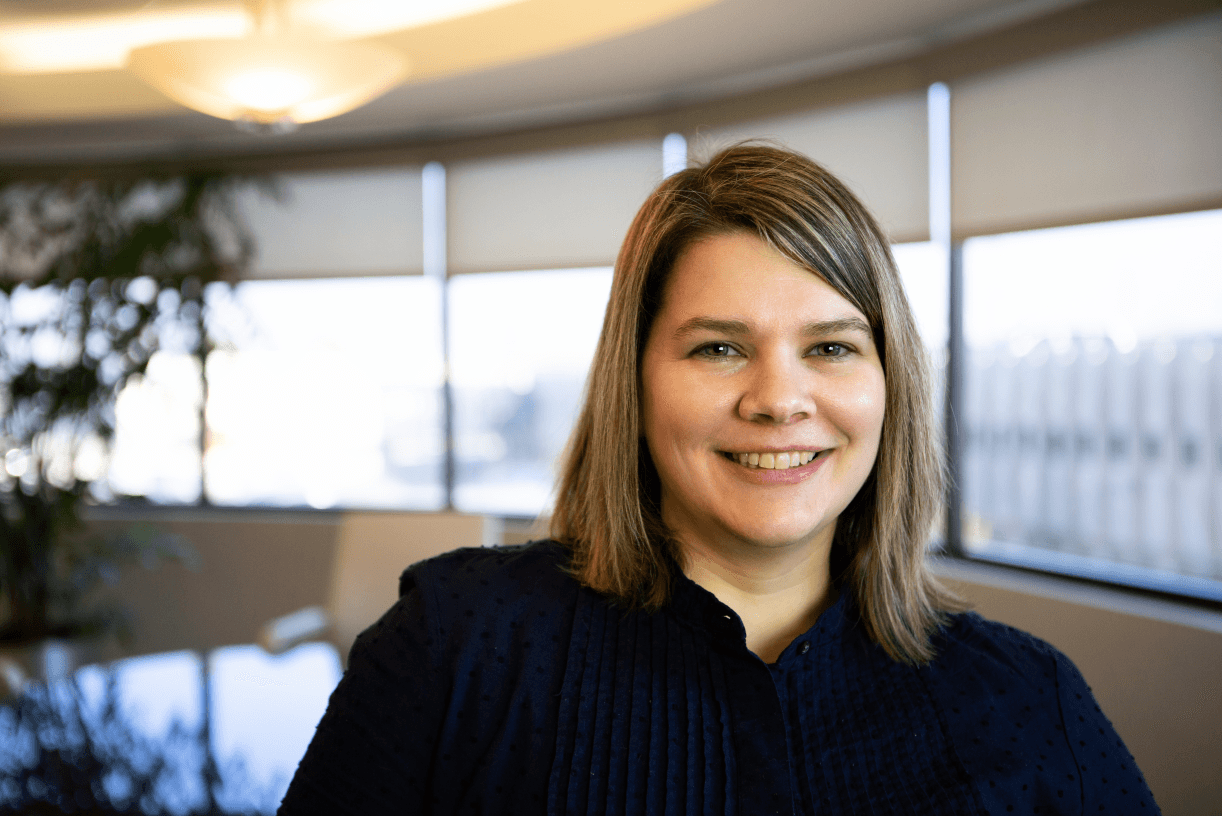 Makala Reha, ACP, Paralegal, was announced as the Kern County Paralegal Association 2018/2019 Paralegal of the Year. Makala was nominated for the award by two attorneys, Dustin Dodgin and O. Vanessa Chavez, both of whom have worked extensively with Makala over the last six years.
Makala received a B.A. and an M.S. from CSUB. She became a Certified Paralegal in 2010 and holds Advanced Certified Paralegal designations in Discovery and Contract Administration/Management. Makala is employed by Klein, DeNatale, Golder, Cooper, Rosenlieb & Kimball, LLP.
In 2013, Makala worked primarily in the field of probate litigation, but she has since become an accomplished general business paralegal with transactional and litigation expertise. She has also been heavily engaged in professional associations, including the KCPA, as a board member from 2010 through 2015 and President from 2013 to 2015. She was the Vice President of Administration for the California Alliance of Paralegal Associations from 2014 to 2015. Both associations promote the continuing education and advancement of the paralegal profession.
According to Dustin Dodgin, "Makala has deployed her education and experience not only in her own work, but in training several staff members at Klein DeNatale Goldner. She is a go-to person for help in several practice areas and spends a significant time training other paralegals, secretaries, and legal support clerks. She also provides guidance to Klein DeNatale Goldner's law clerks and newer lawyers." Mr. Dodgin was not able to personally attend the luncheon in which Makala received her award. However, Mr. Dodgin recorded a heartfelt video message sending his congratulations to Makala that was shared with Makala and the audience.
Vanessa Chavez stated, at the June 13, 2019 KCPA Installation and Awards Luncheon, that "Makala has become an integral part of our class action defense practice. She oversees voluminous document and data collection projects, as well as conducting a preliminary evaluation of class payroll and timekeeping data.This often requires analyzing records of hundreds of employees' records and understanding complex employer systems for maintaining such data. Her initial assessment provides our litigation team a necessary foundation upon which we develop defensive strategies."
Joe Hughes, Vice President of the Kern County Bar Association, shared with the gallery that Makala first became known to him in 2006 when she was a file clerk employed at Klein DeNatale Goldner. He was new to Klein DeNatale Goldner and needed a legal secretary. The firm didn't have anyone available to fill the position and offered to allow him to utilize Makala in that role with the caveat of (1) she was only available part-time and (2) she was relatively untrained to fill the position. Hughes went on to say that Makala rose to the occasion, excelled as a legal secretary, continued her education and hasn't looked back.
In his nomination of Makala, Dodgin expressed that among other strengths, Makala is particularly apt at taking on projects in all business practices areas and providing top quality work.
He went on to say, "In the corporate arena, she handles everything from run-of-the-mill entity formations, corporate resolutions, and stock transfers to preparing complex agreements—and detailed ancillary documents—for multi-million-dollar buyouts and shareholder dispute settlements. In the world of real estate, she is well versed in purchasing, leasing, and the title process. She was instrumental in facilitating an unlikely closing on a large hospitality property by untangling approximately fifty exceptions to title involving liens and encumbrances of every nature. She also corrected extensive title errors on a complicated ag deal where the property had been divvied-up in small pieces through the generations—and then, of course, spearheaded the efforts to close on replacement retail properties in multiple states through the resulting 1031 exchange. These examples do not begin to explain the many deals she has handled—she is handling four escrows now for three separate real estate and business transactions of significance.
Whether in connection with a corporate, employment, real estate or oil & gas litigation matter, she has handled all aspects of large-scale business cases pending in state and federal court, and administrative agencies. She has taken lead roles in analyzing millions of pages of documents, preparing attorneys for multi-day depositions, finding supporting evidence in deposition transcripts on complex subject matters, developing discovery plans, preparing pre-trial documents and providing other trial related support, and managing various aspects of class action administration."
David Cooper, Partner at Klein DeNatale Goldner, also expressed his thanks for Makala's great work ethic and indicated that she was a well deserving recipient of the Paralegal of the year Award.
Mayra Estrada, an Associate Attorney at Klein DeNatale Goldner, told the crowd that Makala is the ultimate team player and helps the attorneys in their department in all aspects of their practice. Ms. Estrada also made it clear to everyone present that Makala is a valued friend.
When most of us must spend countless hours at our job, its nice to be able to work among friends. KCPA is proud to count Makala among our membership and I am also happy to call her "friend."