San Diego Car Accident Lawyers
Car Accidents in San Diego
The moments immediately following a car accident are crucial to proving liability and seeking compensation later, right down to who you choose to be your legal representative.
To get trusted help in San Diego, go with Klein DeNatale Goldner. Our full-service law firm can help with all aspects of your case, letting you rest as best you can while we handle the legal legwork.
Why should you go with our law firm first and foremost?
25+ attorneys using a teamwork approach
Open for 70 years
Spanish-speaking services available
History of successful case results
---
Let's start your car accident claim. Contact our firm at (661) 485-2100 after a motor vehicle accident today.
---
Causes and Liability In Car Accidents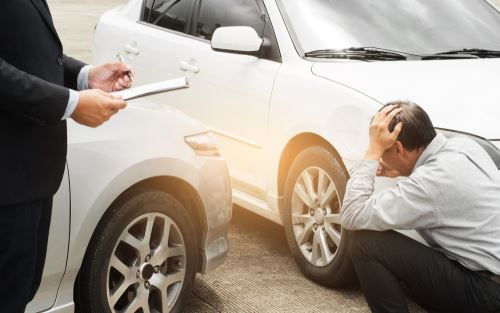 When considering legal options following a car accident, it is imperative that individuals understand what may cause the crash, as well as who may be held liable when they happen. This means having a strong legal team on your side can be helpful.
To help understand what potential causes are involved in car accidents and who may be liable, our San Diego car accident lawyers break it down. Individuals injured in car accidents should know what options they may have.
Cause and Liability in Car Accidents
Here are some scenarios that you should know about:
Drunk driving: Driving while intoxicated can impair an individual's decision making and cognitive abilities, making accidents highly likely. In this case, the drunk driver is most often liable.
Fatigued or distracted driving: The driver who is distracted or tired would be responsible for any crash they cause. For instance, if a person looks down and sends a text, they take their eyes off the road, meaning they don't see other drivers or they swerve into other lanes.
Road dangers: Potholes, missing traffic signals, or other road hazards can cause serious collisions. This is often the fault of the municipality or government entity responsible for fixing these issues.
Understanding who is liable may give you a better idea of who you can seek legal action against and what your options may be. This is the person who may be responsible for the damages you have sustained such as medical expenses, lost wages, and more.
Hiring a San Diego Car Accident Attorney
Before you go through any legal matters, you need to hire a legal advocate who knows exactly what evidence and resources are needed to prove liability and seek compensation. This means protecting your rights and getting the experience on your side to move forward effectively.
At Klein, DeNatale, Goldner, Attorneys at Law, we have 70 years of experience to help our clients through the difficult times they are experiencing. We stand by your side every step of the way seeking the results you desire.
Recoverable Damages for Your Car Accident Claim
In order to recover from a serious car accident, you will need serious compensation to pay for your experienced damages. Oftentimes, necessary medical treatment becomes the most expensive damage after a car crash, based on your injuries.
For example, if you suffer a severe injury then you may need extensive hospitalization and years of rehabilitation to try to feel normal again. This includes:
Broken bones
Permanent disfigurement, etc.
Our San Diego car accident attorneys carefully calculate your damages to make certain you get every last penny you deserve. This means we consider what you have already experienced, as well as the damages you are likely to accrue in the future.
We may be able to fight for the following damages as part of your car accident claim:
Past, current, and future medical treatment costs
Cost to repair or replace your vehicle
Wages lost due to being unable to return to work
Lifestyle modification costs, like wheelchair ramp installation for your home
Emotional trauma, pain and suffering, and other noneconomic damages
Noneconomic damages are any sort of damage that cannot be tracked using receipts or bills. They are meant to help you stay financially afloat and feel a sense of justice after being seriously injured due to someone else's mistakes. Our team has been able to secure significant noneconomic damages for many of our clients, sometimes well into the multimillion-dollar range.
Should You Take a Settlement After a Crash?
Not long after you are in a car accident caused by another driver, you might get a letter from their insurance company that offers you a settlement amount. Be careful not to reply without first consulting with our attorneys.
The settlement offer you are shown is practically guaranteed to be a lowball amount, or much less than you need to actually recover from the crash. Many insurance companies use lowball settlements to try to quickly close up a claim before it can get off the ground.
By accepting their settlement, you will also agree to not pursue any further damages from them, which could mean the insurance company saves thousands if not millions. That is not to say that you cannot be offered a good settlement from an insurance company.
The lesson to take is to always let your car accident attorney review and respond to settlement offers on your behalf. It might be possible for them to negotiate a fair amount without needing to go to litigation.
Never Say "Sorry" – Let Us Talk for You
Speaking of letting your attorney act for you in regard to settlements, you should allow your lawyer to speak for you as often as necessary as your case progresses. Saying the wrong thing – or saying the right thing in the wrong way – can damage your case and stick unfounded liability to you.
Commonly, people are tempted to apologize after a car accident, either to the other drivers or to insurance company representatives later, even if they know they did not cause the crash. An insurance company may take your "sorry" as a chance to misconstrue your words into an admission of guilt. By letting your attorneys do the talking for you, the chances of saying the wrong thing are eliminated.
Working with Passion for People in Need
At Klein DeNatale Goldner, our calling is standing up for the wrongfully injured. From our law office in San Diego, we can help you seek justice and compensation after a bad car accident that left you with serious damages. No matter what the opposition tries to do, we will be ready to stand up on your behalf and be your voice.
---
Do not hesitate to call our California car accident lawyers (661) 485-2100 whenever you need us on reach out to our firm online.
---